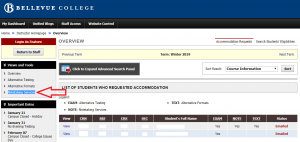 Submitted by: Alexandra Duxbury.
WE WANT YOU TO KNOW ABOUT:
Notetakers joining classes who are not registered students this week. At the end of last week we began allowing our Notetakers to sign up for classes in which we were unable to get a registered student from within the class to be a Notetaker. This means this week faculty may begin to see someone joining their class as a Notetaker who is not a student within the class. We ask all of our Notetakers joining classes they are not registered for to introduce themselves to the instructor the first time they join class but we wanted to notify faculty via this avenue as well. If you are wondering who your class Notetaker is, you can check this in the MyDRC Faculty Module! We've included a screenshot of what this will look like in the module. Please be in touch if you have any questions.
ACCOMMODATION HIGHLIGHT
Seeing as registration is coming up in early February (2/8 for priority registration, 2/11 for continuing students), let's talk about Priority Registration as an accommodation. This accommodation is approved for students whose disability, or management of their disability, means their academic schedule could be affected. For example, a student whose medication means they cannot get to school before noon, a student with a disability requiring additional time to travel between classes, or a student who is actively receiving medical treatment and needing to schedule appointments, etc. may receive this accommodation. Because while we can't guarantee students spots in classes, we can give them a better chance at getting into classes that work for them. This accommodation is managed solely through the DRC by coding students in HP SMS so their registration appointment auto-populates to the priority registration date. Next week we will do a spot check to make sure students' registration appointments are accurate and send out reminder emails to students with this accommodation including the following info:
general reminder about their priority registration;
a link for them to verify their registration appointment ahead of time and if inaccurate, instructions to contact the DRC so we can fix it ahead of time;
a link for checking to ensure they do not have registration holds since the DRC cannot remove those;
and lastly, a reminder for any High School Programs students to make sure they turned in those programs' required forms since we have many Running Start and CEO students.
SOMETHING TO THINK ABOUT
Some folks have requested we link to outside resources and articles in these emails so let's start! This week brings you Bryan Cranston is Everything I Will Not Be Accepting From Abled Allies in 2019 from Crutches and Spice, a blog by Imani Barbarin, who "writes from the perspective of a black woman with Cerebral Palsy." In it she provides an intersectional critique of the movie The Upside, featuring Bryan Cranston and Kevin Hart. Comedian and Daily Show host Trevor Noah weighed in recently in this video his change of perspective after he heard from a disabled actor about why able-bodied actors playing disabled characters is a form of discrimination, and how he related to this from his own position as an African actor. And for another perspective on the issue, Deaf actress Millicent Simmonds shares her thoughts on being cast in The Quiet Place for the Deaf character in this video. We encourage reviewing these links and thinking about their separate critiques in light of Hollywood's longstanding history of able-bodied actors playing disabled characters. Keep in mind, many times these actors are 'rewarded' for doing so during awards season.
QUESTIONS?
Do you have a question for or about the DRC? There's multiple ways you can get an answer!
1 – You can contact the DRC.
2 – You can contact any of the following faculty who serve on the Faculty DRC Liaison Committee: J. Engel Szwaja Franken, Donna Miguel, Katherine Oleson, DeeDee Orcajo, and Luke Rawlings.
3 – You can also anonymously ask by putting your question in the Faculty Commons' 'IDEAS HERE' drop box located on the stand just inside the Faculty Commons entrance.
Attachments:
Last Updated January 23, 2019